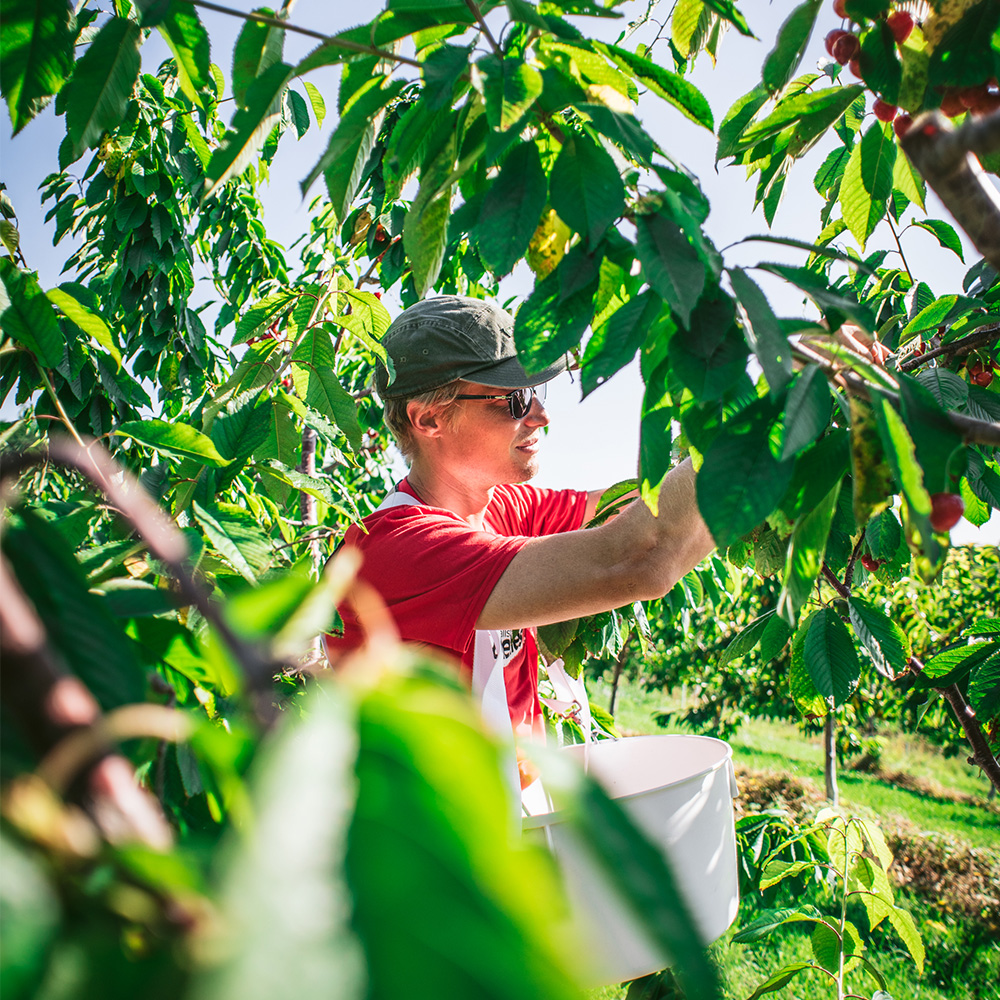 Early July through mid August
We grow eight varieties of premium sweet cherries, Montmorency tarts and have more varieties being planted in 2022; yum! The trees are planted as a "pedestrian orchard" to facilitate handpicking. The trees are planted at a much higher density that what one historically sees in Leelanau for processed fruit and pruned each spring to optimize the size, color and taste for fresh eating with friends and family.
The entire orchard has been planted since 2010 and is composed of modern varieties, resulting in a larger, more flavorful cherry from a tree that is more accessible and easier to pick. There is plenty of room to walk through the rows but no ladders are needed as the trees are topped for harvesting from the ground.
The varieties are selected for their taste and size, and maturation date to spread out the ripening of the fruit across a 4-6 week window. Some varieties are old favorites, others are newer varieties optimized for eating right at your table. HH cherries is located just north of the 45th parallel so our season starts the first two weeks in July and we have fresh cherries later than most because we are so far north and protected from the extreme heat by the waters of Lake Michigan.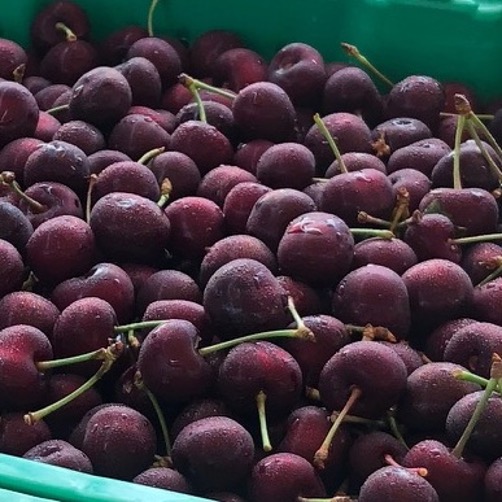 Cavalier
Early and Traditional
(First to Ripen)
Cavaliers are our earliest and more traditionally flavored sweet cherry. It is a dark burgundy color with a robust cherry flavor. Medium sized and a short stem, it grows in tight clumps. They are an early delight to kick-off the season, generally the first half of July here at HH cherries. Delightful as they truly kickoff the essence of summer, with so much more to look forward to and experience.
Ebony Pearl
Huge and Firm
(Early Season)
A huge, eye-pleasing, early-season cherry that sets the standard for size. Moderately firm and crunchy, Ebony Pearl is dark red with excellent flavor and high brix, averaging 21%. The stems are long and securely attached. Some people use the stem as a handle and carve the fruit like an apple! Generally ready to harvest starting in mid-July.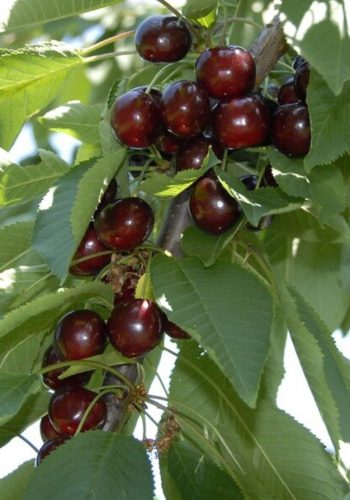 Ulster
Big and Reliable
(Mid Season)
Ulsters are a long time favorite of local growers. It is a large cherry with moderately firm flesh and a juicy center. You have eaten Ulsters before if have purchased cherries in Michigan fruit stands, but the joy of picking your own is a treat.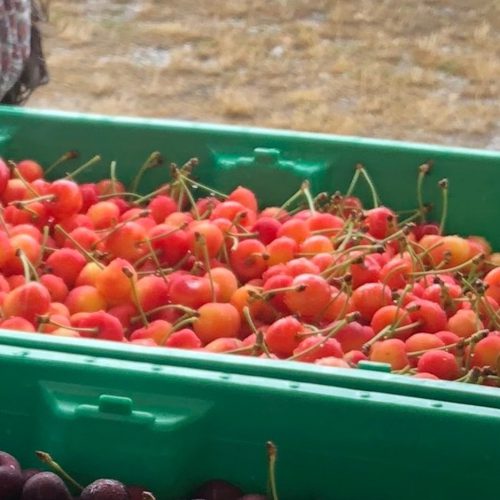 White Gold
Marbled and Sweet
(Early to Mid Season)
A mid-sized, yellow blush cherry with red and pink specks and a super sweet taste. These ripen early to mid-season. It is fun to mix them with other varieties to visually make a bowl full of cherries really stand out. Generally ready to harvest starting the second week of July.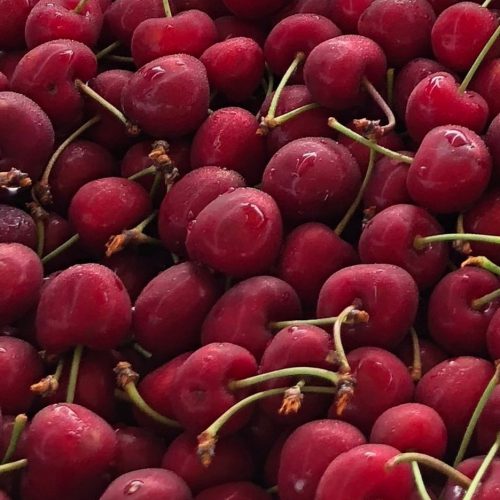 Summit
Huge and Juicy
(Mid-season)
Very large, heart shaped (exceptionally pointed), firm, reddish mahogany color at maturity. Very sweet and aromatic. The pits are small, which means more sweet cherry flesh for you to enjoy. 'Summit' was introduced in 1973 and is best eaten fresh as it can be a challenge to ship as they are softer than most of our other varieties. Generally ready to start harvesting in mid-July.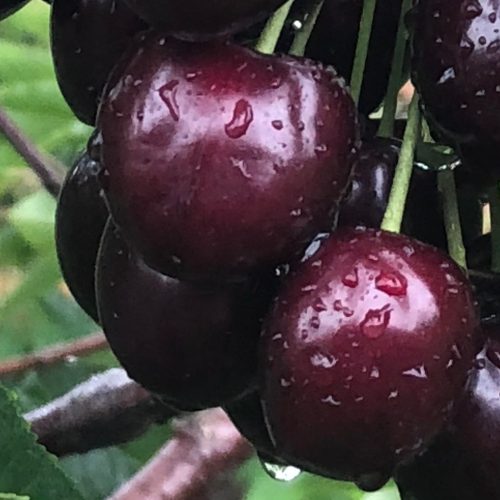 Attika
Bold and Sassy
(Mid-Season)
A dark, full-sized cherry with an exceptionally elongated pit that ripens mid to late season. The skin shimmers in the sun and the long stem serves as a wonderful handle for savoring. They are firm, almost crunchy, with a full flavor that begins with a sweet burst followed by a lingering tart twist on the back of one's tongue. Vulnerable to frost during the bloom, they are planted on high ground to avoid the frost in the valley, which kills the delicate bloom flowers. Available usually the third week in July.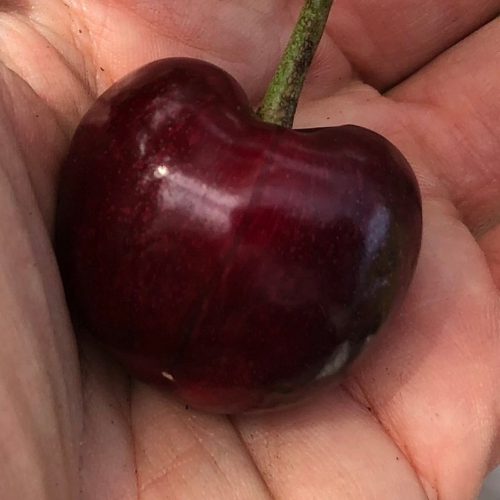 Regina
Big and Subtle
(Mid to Late Season)
A very large, dark red, firm, late-season sweet cherry with a more subtle cherry flavor profile. Its sweet low-acid flavor, crunchy texture and eye appeal commands attention alongside its extra long stem. This variety is harvested starting about the third week in July and stores well, if you can keep a lock on your refrigerator's door.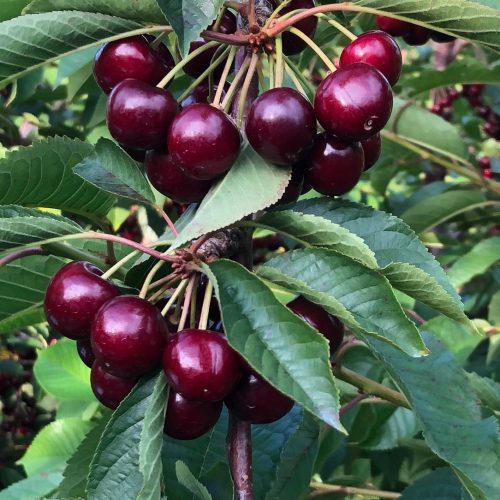 Sweetheart
Late and Great
(Late Season – when No One has Sweet Cherries, these are waiting for you)
A large, bright red heart-shaped cherry. Our latest cherry and yes, we will have sweethearts when the local papers print that the sweet cherry harvest is over. Don't believe them! Sweetheart matures at the end of the season, starting in late July or early August, and remains firm after picking. The size will not surprise you, but the deep burgundy fruit and rich taste will bring a fading summer into bright focus.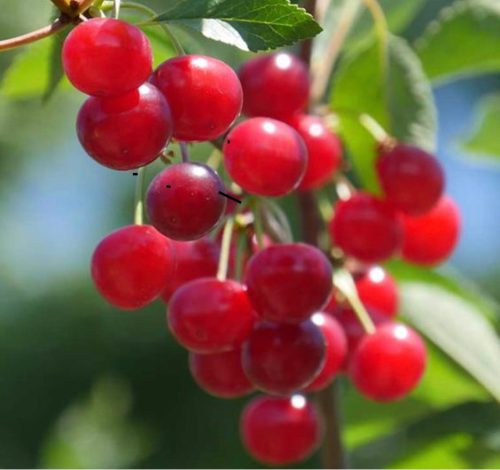 Montmorency Tarts
Yes, you CAN hand pick them!
(Third week in July)
So many people asked to hand pick some Montmorency tarts for a favorite pie, breakfast pastry or ice cream flavoring that we have a block to pick on Thursdays – Sundays for 2 brief weeks in mid-season. Its high acidity makes it a favorite staple for chefs around the world and made Traverse City "The Cherry Capital of the World".
Visit our Cherry Farm
U-Pick cherries and flowers all season long. Find out what is available at Hallstedt Homestead Cherries!
Shop our Store
Fresh sweet cherries and seasonal products: our store brings the magic of Leelanau to your door.