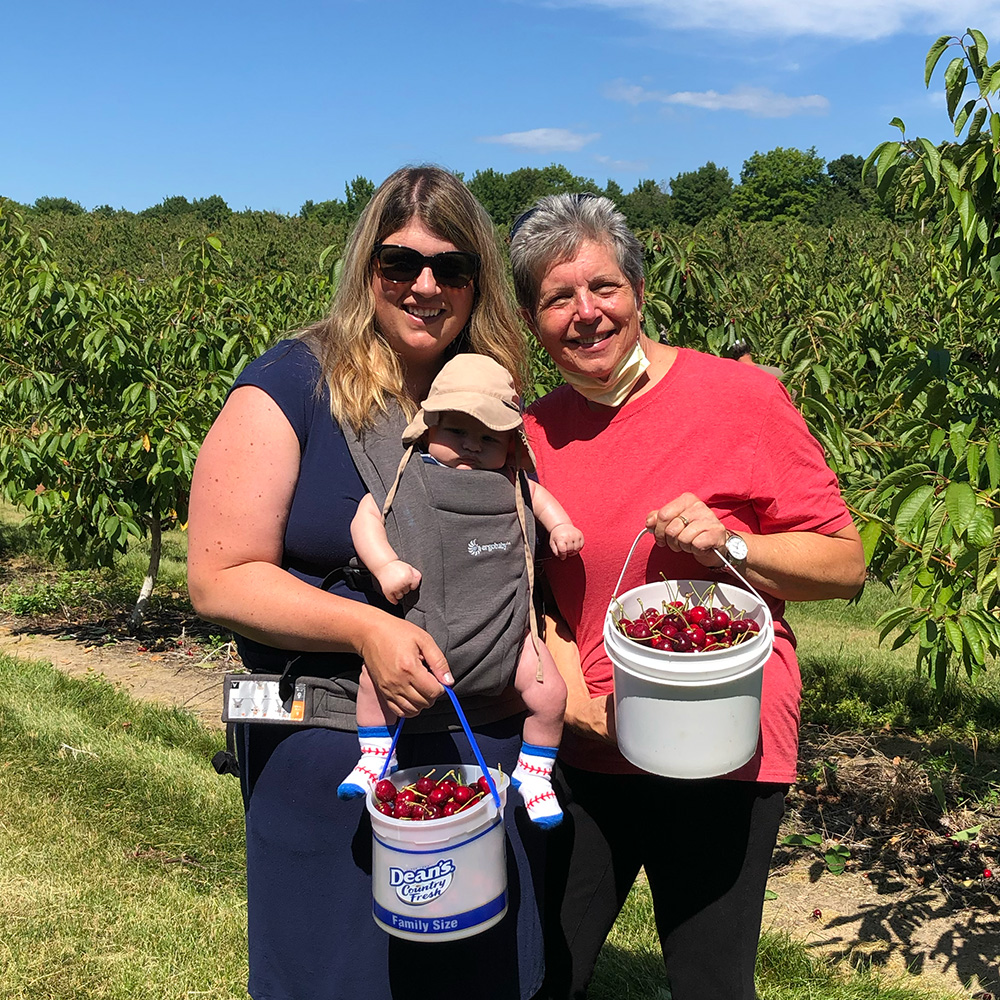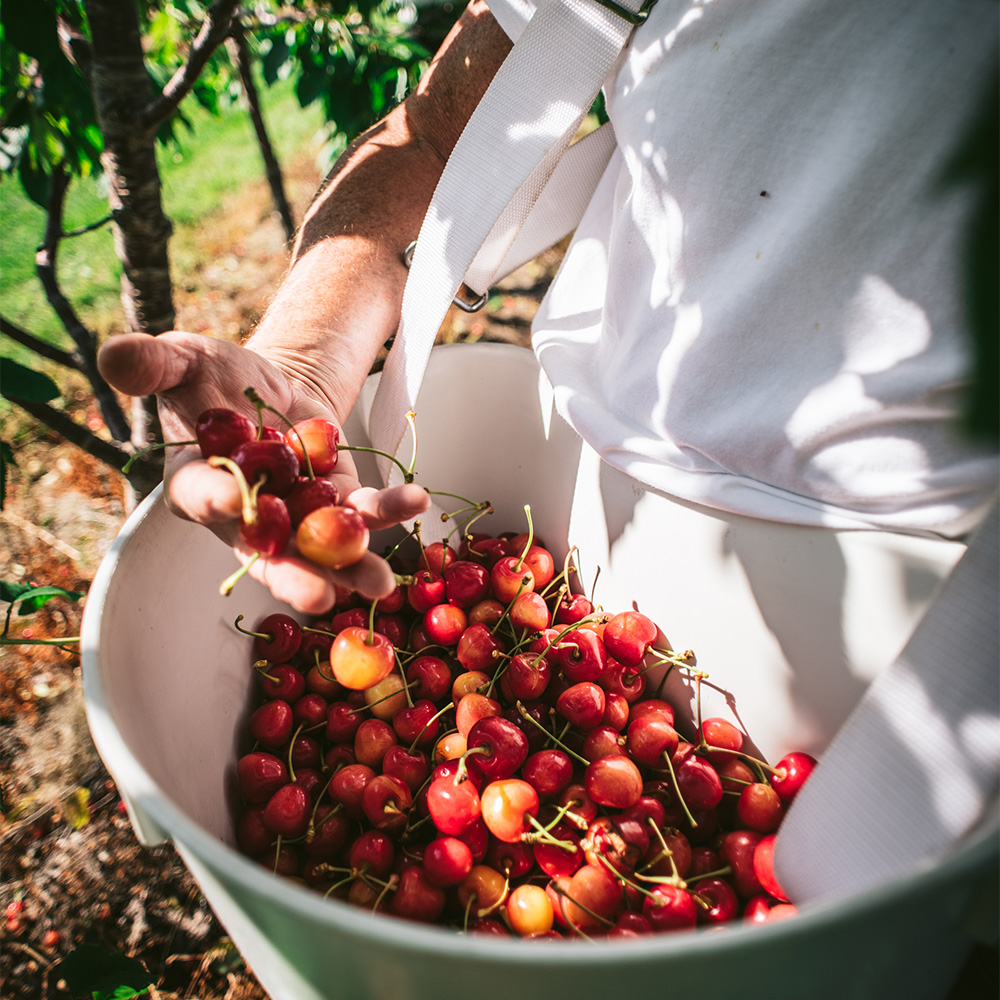 Early July through mid-August 
U-Pick cost: $4.50 per pound
We are first generation farmers who are passionate about providing the best u-pick experience for you! Once you arrive, we will provide everything you need – buckets, instructions, and friendly "pit crew" members who will teach you where and how to pick sweet cherries! Enjoy the drive to this slice of heaven on the Leelanau Peninsula, and you will want to come back again and again!
Each of our eight sweet cherry varieties and our Montmorency tarts are available at different times. See below:
Cavaliers
First – second week in July
White Golds
First – second week in July
Summits
Second – Third week in July
Ebony Pearl
Second – Third week in July
Ulsters
Second – Third week in July
Attikas
Second – Third week in July
Reginas and Montmorency Tarts
Third – Fourth week in July
Sweethearts
Fourth – Fifth week in July, mid-late August
Late May through Early October
U-Pick cost: $18 per bouquet
What started as our daughter's "wedding Flower Garden" in 2017 is now an opportunity for you and your family to come experience the amazing variety of an ever-changing array of flowers! Come pick at your leisure, breathe in the scents, and design your own bouquet. We provide the snippers, a packet of flower food, and instructions as needed (including approximate size of bouquet).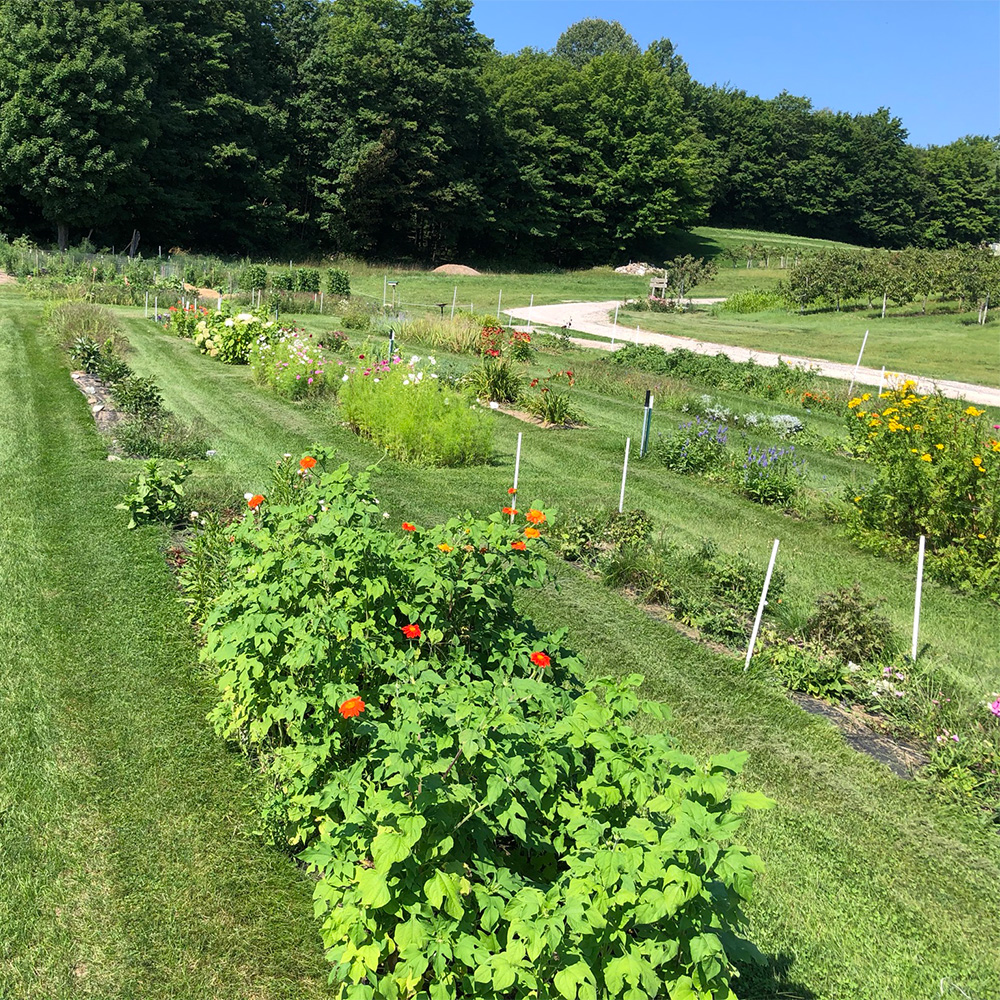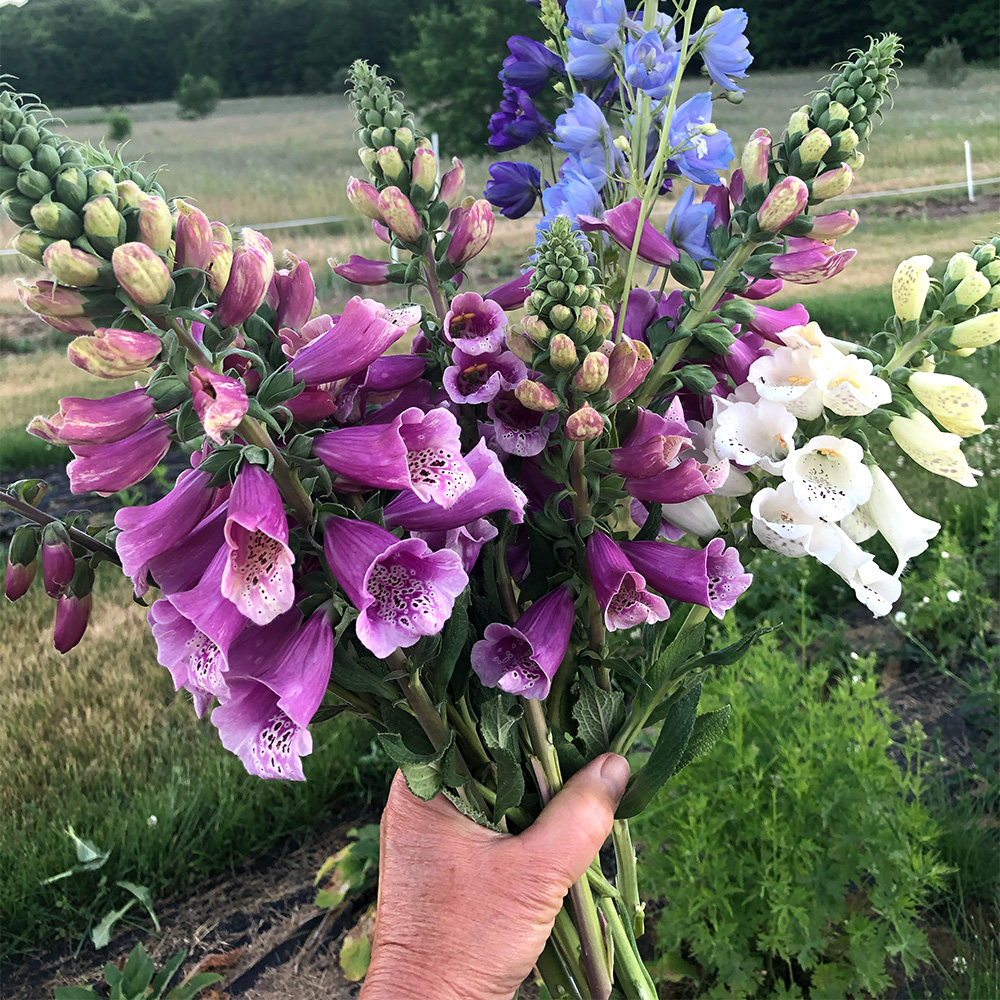 When is the typical picking season and what are your hours?
We have started as early as July 3 (2021) and harvested as late as Labor Day (2019)! Typically, we are picking mid-July through mid-August.
Monday – Saturday: 10 am – 6 pm
Sunday: Noon – 5 pm
How do we know what cherries are being picked each day?
Start and end dates for each variety vary. PLEASE check our website, Facebook page, or call us for current information.
What is the process once we arrive?
Early in the season, when picking in the front part of the orchard, we have a large grassy parking area right by the road. Park, then come to the roadside stand to get a picking bucket. The rows ripe for picking will be marked as such. Pick your fruit, then return to the stand to weigh your fruit and pay.
Later in the season, drive up the quarter-mile driveway to the barn, park on our front lawn, and walk up to the middle building, a large barn, and we will get you started!
Do we need to bring anything?
Just you and your family and friends! We will provide the picking buckets with harnesses to hang the buckets over your shoulders, and smaller buckets for the kids. We will also provide produce bags to take your fruit home, although you can bring your own container if you wish. If travelling awhile to get to us, you may want to bring a cooler; the cherries are best if cooled down.
"Yikes! What do I do with all these cherries we picked?!"
Because cherry-picking is easy, we occasionally hear the above comment! We have a recipe book from which you can photograph recipes ("Best cherry pie" or "Frozen Cherry Margarita", anyone?!). Also, we do carry cherry pitters that pit six cherries at a time for $15.
What is the cost?
Entry to the U-pick area is free; you pick the fruit you want and pay by the pound at the stand.
Can my child reach the trees?
Yes! We grow our cherries on "dwarf" stock and prune our trees annually to maintain them at a height at which a ladder is not needed for harvesting. In fact, we do not allow ladders or anything else that can be stood upon to reach higher branches, due to your safety and our liability.
May I take photos?
Yes! Please feel free to share on our social media!
How do I know how much to pick?
A typical bouquet fits easily into a regular mouth canning jar. We have samples on hand for you to guesstimate how much you can pick.
How much is a typical bouquet?
$15; if you pick a larger bouquet, then $20.
Do I need to bring anything?
Nothing needed! We provide blunt-end snippers, a packet of floral food, jar, and water. We can also wrap it up for you to transport home.
How do I know what is blooming?
You can look at THIS CHART to get an idea of the colors and timing of what is blooming!
Our Farmstand
Hallstedt Homestead has unique cherry and flower-related items at its farmstand.
Cherries Delivered
In Summer 2023, Hallstedt Homestead plans to start a pre-order Truck Tour to Indianapolis and Cincinnati to reduce your shipping costs!